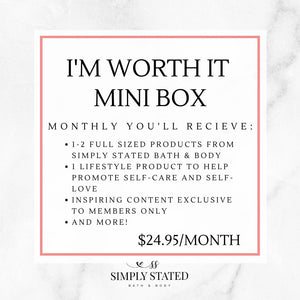 Subscribe + Save Mini I'm Worth It Monthly Box (ships 12/16)
Regular price $28.50 Sale
How wonderful would it be to have your own self-care box delivered straight to your door? 
What comes in my box each month?
The best thing about the I'm Worth It Box is that it's a complete surprise each month for you! We'll give sneak peeks throughout the month, but we want this to be a mystery for you.
Each box is carefully curated to include 2-3 products that are handpicked by Chrissy and Marcia. The products include bath and body products from our store, but also some fun lifestyle products that fit the theme of the month. Every subscriber also gets an exclusive e-book that contains inspiring content, tips and tricks, recipes, workouts for your busy schedule, and so much more!
In addition to the variety of products from our store, lifestyle items can range from the following:
Once a quarter subscribers will receive a cute graphic tee in their box. Who doesn't love a cute new tee to shake up their outfits?
Accessories are the most fun to receive in a box. We love finding unique items to add to the whole experience!
Bags...think travel-size zipper pouches, beach bags, etc
Freshies, candles, waxs, the options are endless depending on the season!
Inspiration! This is the perfect way to not only help us feel good about ourselves but not feel guilty about taking the time we deserve to treat ourselves.